God in Us and Living Water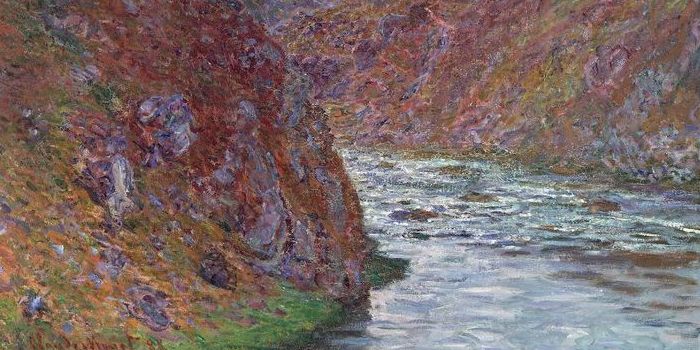 (From Claude Monet's, Valley of the Creuse, Gray Day)
On the last day of the feast, the great day, Jesus stood up and cried out, "If anyone thirsts, let him come to me and drink.  Whoever believes in me, as the Scripture has said, 'Out of his heart will flow rivers of living water.'"  Now this he said about the Spirit, whom those who believed in him were to receive, for as yet the Spirit had not been given, because Jesus was not yet glorified. ~  John 7:37-39
If we drink from the fountain of life, we are a new creation and the very spirit of God dwells in us.  Seriously, this is an amazing truth!  Inside of us.  Imagine how transformed our lives would be if we walked around in this knowledge.  God in us as we go to work or school, when we are excited to go or we dread what lies ahead.  God in us when we open our groggy eyes in the morning and lay our heavy heads down at night.  The very God of the universe who created the orbiting planets so unique and intriguing and the fiery stars and solar systems we haven't even discovered yet in us as we walk around the grocery store or sit with our family for a meal or read a book to our kids at night.  God in us when we face the oh so difficult things that life has and in our moments of greatest joy.  God in us!
And not only does God's spirit live in our body, but rivers of living water flow from our hearts!  Not a spring or a stream, which would be incredible enough, but rivers.  This is absolutely amazing and so contrary to the culture around us. Christianity is not the popular self-actualization of the day wrapped in a different package with a pretty bow (though devastatingly some would present it that way).  It is something altogether, entirely different!  We go to that fountain and drink to quench our own thirst and with no effort on our part those living waters pour from our hearts and onto every person in our path.  We can't help it!
Instead of a selfish inward-focus, our transformation results in the lives of others experiencing beautiful change as well as they are engulfed in the flood of healing waters.  This is what we are meant for!  Here is where we find real lasting peace and purpose, as we are a conduit of the grace that has been freely and so lovingly given to us.  No amount of self-love and inward-focus and self-actualization can produce this.  It can't be ginned up on our own.  Unlike the Oprah-esk philosophy of the day that produces a self-made man or woman, we can't even take the credit for it and pride stays at bay.  Our lives are filled to the brim and overflowing because of God and his spirit in us.  Rivers of living water flow from our hearts wherever we go.  How beautiful is that?!