about this blog
For us, "coffee cup theology" has been a slightly derogatory term for a while. It's how we've referred to Christian culture's misuse of scripture verses by taking them out of context and applying them incorrectly. You know what we're talking about. The verse on your coffee cup that says something nice, but you have no idea what the context actually is, or what it meant to the original readers.
We've laughed about some of them, gotten angry about others, and wanted to cry about a few. So we decided we were going to redeem coffee cup theology by attempting to do it right. This comes with a few convictions. And so we make the following commitments.
1. context
We will not to ignore the context of a passage when seeking to apply it. We believe the context is important to our understanding of the biblical content, and necessary to right application of biblical principles.
2. all scripture
We believe 2 Timothy 3:16. We believe all scripture is profitable, not just the pleasant, happy sounding lines. And we believe it is profitable to let scripture not only teach us and encourage us, but also reprove, correct, and train us for righteousness. So at times we'll be writing about verses that may not sound very comfortable, but we hope to show how all of scripture is good news to those who are in Christ, and to those who are perishing.
3. everyday
We believe theology is best done in the everyday. We believe academic study of the scriptures is important, but we also believe that every Christian is a theologian, and that theology is best done in the flow of everyday life, not divorced from it. Theology should be informed and studied, but also experienced and lived.
4. community
We also believe that theology is best when done in community, not isolation. That's why we sit together at the dinning room table and discuss what we're reading. It's also why we believe so strongly in the importance of the church. And it's why we regularly consult theologians of previous ages to benefit from their wisdom. It really isn't about Jesus and me, but rather, Jesus and we. The biblical story is the story of God saving a people for his possession. To be a people, we must be plural and together, not singular and isolated.
about us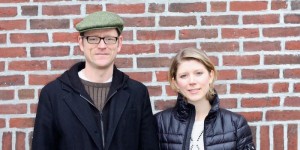 We are Brance and Lauren Gillihan. We live in Southie, a neighborhood in the city of Boston, MA. We are married with two daughters. We are missionaries, servants, and learners. We love Jesus and we enjoy coffee.
We are part of a Reformed Baptist Church that we love, where the bible is taught faithfully, and we are growing in our knowledge and sanctification.
Lauren also blogs about how to enjoy life, where she shares wisdom for living well from biblical principles and her own experience.
creeds & confessions
While we do not consider these documents perfect or exhaustive in expression, they are accurate summaries of that body of doctrine which we believe is found in Holy Scripture and ought to be preached, and taught in the local church.